An armchair for the orchestra
Un fauteuil pour l'orchestre | march 28 2015
At first glance, building a piece on European construction is as exciting as producing a musical about territorial reform or a ballet on the parental quotient. This is the subject chosen by the Austrian choreographer for his piece "shake it out". From his own questions, the choreographer builds an inventive and funny piece, succeeding the time of this little hour to make forget Jean-Claude Juncker and the lost illusions of the European dream.
At the sound of martial music, five dancers in skin breeches in the purest Tyrolean style open this room on a frantic pace. The straight lines follow the horizontal lines and the extended arms. We are in the heart of Nazi Germany. While this choreography is gradually being disintegrated with vagueness and setbacks, the play bounces on the excesses of Franco-German reconciliation and then on the chaos created by European enlargement. The rectilinear dance of the first minutes then gives way to burlesque pas-de-deux and scenes of political emulation drawing towards the pagan incantation.
The portrait of the European Union made by the choreographer is not tender, oscillating between ferocity and derision. It is thus difficult not to burst out laughing in front of the representation of a banal European council, where in the middle of a circle formed by a mass of European flags the 5 dancers exchange worldly amabilities in ancient poses that are ridiculously ridiculous. The troupe of dancers clearly shares the pleasure of the Austrian choreographer in making this Brussels aristocracy tick, impelling this piece with frenetic and cruel energy. This is also the highest quality of this piece, its sense of rhythm. Accompanied by two musicians, who will end up taking part in an effective and funny drumming session, the five dancers enthusiastically encode the inventive choreographies on European history and the rivalries of national egos.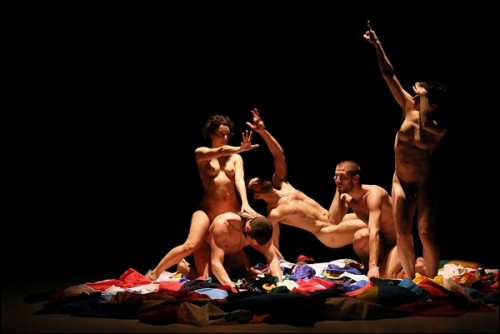 Built like a comedy, "Shake it out" remains a piece on the drift of the European project. An Austrian working in France, Christian Ubl points to Brussels' failure to create a European identity. The piece today is reasoning sadly with the news, while this disappointment is producing discard movements already perceptible in the ballot boxes.
article by Florent Detroy