NWZ online
Tanz Bremen "whirls up the idea of Europe
The culture shock of immigrants and a Europe in crisis – the festival "Tanz Bremen" deals with people on the margins of society.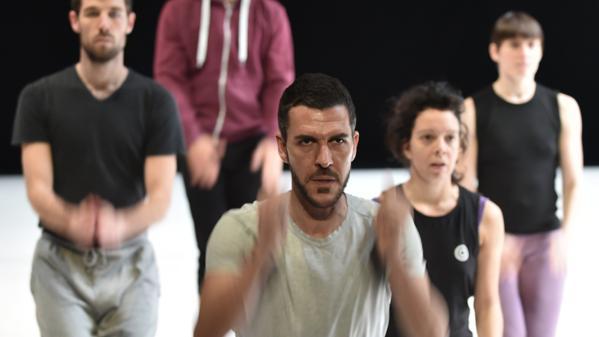 BREMEN Only the sound of a cowbell of the Swiss Alps brings redemption. Until then, the Austrian choreographer Christian Ubl lets his ensemble CUBe fight against the forces of a diverging Europe. Three men and two women in lederhosen react to propaganda and political talk like robots and jumping jack: the arms up, the hand to the carotid artery, grimace, lockstep and push-up. With the German premiere of the production "Shake it out", a breathless confrontation with Europe, the festival "Tanz Bremen" was opened on the weekend.
During the one-hour staging in the "Kleines Haus" of the Theater Bremen, a variety of flags are served and eaten with tripple steps. All this on a minimalist white stage that is evenly lit and later flares to destructive sounds like an air raid and darkens again.
A DJ and a drummer next to the stage drive the movements. To some extent so loud that first viewers cover their ears, some leave the room. Too soon, because after this spectacle, the dancers suddenly come together. Feathery movements, laughter, the European anthem, Schuhplattler West and Kasatschok Ost – a world is growing together.
The award-winning standard dancer and choreographer Ubl is Austrian and has been working in France for 14 years. The split between old and new home brought the 42-year-old to the idea of ​​bringing the European-critical production "Shake it out" on the stage, a plea for diversity.
Sometimes his ensemble shakes his hands like a deer antler over his head. Later, the naked performers warm themselves around a campfire made of colorful flags, stretch like a yoga class, explore a possible cohabitation with foot rattle, cow bells and folk dance steps. The audience celebrated this grotesque scenario with intense applause and practiced polka, waltz and Japanese dance in the subsequent "Folksbal" with Ubl and his team.
"Tanz Bremen" shows until Friday (13.2.) More than 20 productions by international newcomers, celebrated choreographers and the Bremen scene. Festival director Sabine Gehm has given the topic "Participation / Participation": "It's about cultural identities beyond clichés. This is highly relevant given the political demonstrations on refugee issues. "
On Monday, Spanish choreographer Israel Galván will revolutionize traditional flamenco with drumming strides and lightning-fast gestures in his German premiere "FLA.CO.MEN". Choreographer Abou Lagraa proposes a cultural bridge between France and Algeria with hip hop and classical music on Wednesday in his dance night "Nya". Sébastien Ramirez and Honji Wang want on Friday with their production "Monchichi" the fears and opportunities of immigration and culture shock experience.