POINT ÉPHÉMÈRE CELEBRATES 10 YEARS
PAS DE 10 ANS ! MAIS DE LA DÉRISION… ÉVÈNEMENT DE SOUTIEN À CHARLIE HEBDO
Vous avez été très nombreux à annoncer votre venue ce samedi pour les 10 ans de Point Éphémère. Au vu des terribles événements de ces derniers jours, nous considérons que la programmation de nos 10 ans telle qu'elle a été conçue n'est plus adaptée.
Celle-ci a donc été modifiée pour en faire un événement hommage, un événement engagé. Point Éphémère souhaite célébrer la mémoire de ceux qui ont fait vivre le rire et la dérision
Plus d'informations sur la page facebook du Point Ephémère :
10 JANUARY 2015 | From 15h
FREE ENTRY
"Solidarity", "being together" are words that have been heard everywhere since Wednesday. In a moment where we have to make a block, a body, the dance appears as an evidence. Choreographer Christian Ubl, accompanied by Ingrid Florin and DJ Moulinex, will reflect on how to come together in a choreographic gesture. Think together, and maybe invent, Charlie's dance.
POINT ÉPHÉMÈRE
200 quai de Valmy 75010 Paris
01 40 34 02 48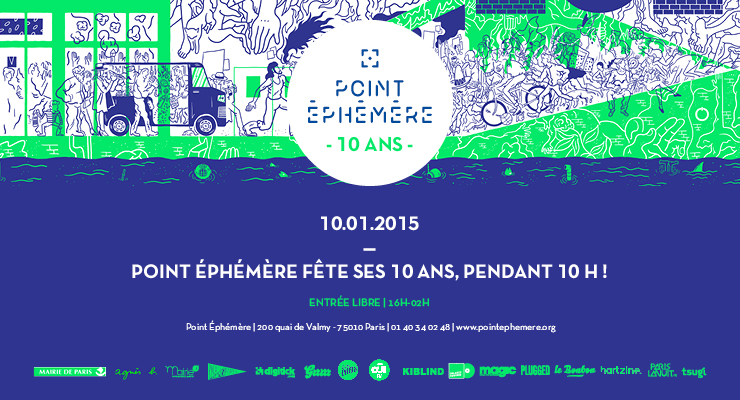 CUBe est un projet chorégraphique subventionné par le Ministère de la Culture et de la Communication / DRAC DRAC Provence-Alpes-Côte d'Azur , le Conseil Régional PACA,le Conseil Général des Bouches-du-Rhône, la Ville de Marseille, la Ville d'Istres. CUBe – Christian UBL est soutenu par le Forum Culturel Autrichien à Paris.