Press review | L'été Danse au CDC #5
"Au" from Ubl and Walters to Summer's Hivernales in Avignon
Winter in Avignon
Christian Ubl and Kylie Walters created "AU" at the Klap de Marseille in October 2015,
they are in Avignon winter in july 2016
Difficult to invent a more cryptic title. Au, like Other Austria or Australia.
The initial idea is absurd: sometimes the posts are wrong, they send letters to Austria to
Australia, and vice versa.
Christian Ubl is Austrian, he lives in France and constantly wonders about identity. This tenuous pretext is for
he has the opportunity to create a play with Kylie Walters, Australian dancer and performer living in Geneva.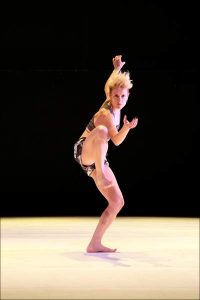 It is certainly not a bushwomen, but for all that, except for the common genetic
all humans and their radical otherness, they have nothing in common.
Everyone knows that "I am another" since Arthur Rimbaud, for whom the "old fools had found of the ego only the false meaning", tracing radically – in the enunciation – the paradoxical dialectic between the identity and the 'otherness. It's since a revealed truth for philosophers and psychoanalysts, Lacan Derrida Barthes and Deleuze in mind. Lacan will write the Other with a capital letter, that of the word that makes us exist. Pharmacologists believe that we are only chemistry, cognitivists that we are only behaviors, the choreographer thinks, like the poet, that we are beings of culture and language.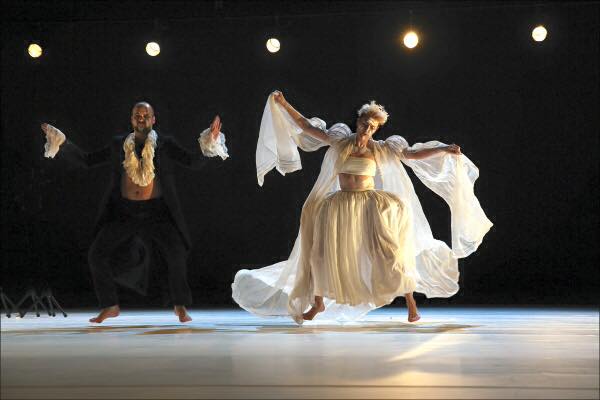 Ubl and Walters question what can be invented when one has neither the same culture nor the same language, just dance in common and the chance of encounters.
Their duo is a trio: the musician Seb Martel disguised as an explorer escaped from an album of Tintin in
Australia is on stage and dancing with them, letting the computer go by itself. Enter
conference of nations, waltz of vienne, contemporary dance, animal mimicry or ethnic dance,
humor and parody link these disparate elements.
Blah blah blah
It is true that this show is talkative, in a sabir that the viewer does not hear, except the key words prefixes in AU.: autre, Autriche, autruche, authentique etc…
Since they share nothing at the beginning, except exile and the question of identity or difference, they must either ignore each other or invent an unknown language. They go through all the clichés, from folkloric dance to that of the ostrich, or by the flags of which the egos are draped.
This time they are dressed, nudity has gone out of fashion since "Shake it Out" of the same Christian Ubl, Olivier Dubois and Daniel Léveillé.
This unlikely encounter is a surprising piece, totally atypical, yet in line with the previous one on the essential
and impossible European dialogue.
This is a new stone in the garden of contemporary dance, launched by two partners who gravitate to its margins. There is still a question of borders, being inside or outside, we do not get out of it, we put barbed wire in it, we open it and close it, but in any case they try. All in all, a dialogue of the deaf is always better than an armed conflict, and as more is funny, we want more.
These two would have never met: she, irresistible wild in shorts, came from the land of the aborigines, kangaroos and platypus. He, frac, stiff, severe, mysterious, very Austrohungarian.
But have not Kylie Walters and Christian Ubl already married A and U Australia and Austria? Then it happens what happens between a man and a woman: she, with wriggling shoulders, lascivious poses and nuptial dances, is desired.He, haughty at first, turns around her in circles more and in the end, open her arms like a great eagle.
From then on, the two solos will become duos, duo of lovers in touch and carried deliciously inventive, sometimes it climbs on it, nibbles, it is very animal, confusing prey and hunter, before they both fly in a Viennese waltz. Choreography by the two accomplices, "AU" sings-for they also sing and play with words-the happiness of living together in difference. Thanks also to the third friend, the musician Seb Martel, who enters the dance and the (sup) bears fraternally.
Daniele CARRAZ
A SUMMER IN THE RHYTHM OF LES HIVERNALES
Seven regional and international companies, to discover in Avignon in the program Summer dances at the CDC, 5th of the name!
For the time being, the CDC des Hivernales no longer has a director * (recruitment is in progress following the brutal dismissal of Emmanuel Seraflm last December), but continues to navigate towards a single direction, contemporary dance , diverse, creative and exciting i It is without "sulking [his] pleasure to be always standing" that the team will host for 10 days (release July 15), with partners, dancers and choreographers at the forefront , offering them a reference visibility during the Off d'Avignon supported by the Paca region and the Arcade.
Christian Ubl will open the days with Au (as Autnche or Australia), which he will dance with the sparkling Kylie Walters, the highlight of his triptych on the living-together and traditions Between Waltz of Vienna and Abongene Dance, a play funny, poetic and offbeat about identity From his 20 years when he left the Brésù for Brussels, to his intimate and artistic life, inevitably linked, daudio Bernardo will deliver his memories in an intense story in SÔ20, in partnership with the Théâtre des Doms Du Languedoc-Roussillon region Midi-Pyrenees, Sylvain Hue will play Boys don 't cry a duo of dancers, and a drummer, clash and shake up the stereotypes about childhood In a woman in the sun, Franco-Swiss Perrine Valli dissect the desire for a haunting step of four (see above, Swiss selection in Avignon) Rip hop and poetry with Brahim Bouchelaghem (Hauts-de-France Nord Pas de Calais Picardie) who presents his solo hydne and onginal What did you say?, in complicity with Carolyn Carlson who signs poems and calligraphies.
Finally, in FloaùngFlowers, the Taiwanese Po-Cheng Tsai will lead her troupe of magnificent dancers on the water for a moment of floating benefactor, and the spirited Barcelona choreographer Sol Pico, as part of Avignon to Catalan, will dance One-hit Wenders, with Joan Manrique.
A woman in the sun Perime Valli © Dorothée Thibert. She will return on her journey, and from the top of her red tips, will close
the selection in an unforgettable trip very duendei "DELPHINE MICHELANGELI * * Still in deficit (120 DOO €) and precarious lease (until 2020), but partially reassured by the recent announcement of Audrey Azoulay to revalue the support of the Ministry From Culture to Dance, the CDC will host an Associate Artist (from the region) and reinforce the residences.
L'été danse au CDC
10 au 20 juillet
Les Hivernales, Avignon
04 90 82 33 12 * hivernales-avignon.com
[AVIGNON OFF] "AU", THE INTERCULTURALITY OF CHRISTIAN UBI AND KYLIE WALTERS
July 10, 2016
By Amelie Blaustein Niddam
The CDC "Les Hivernales" makes their "Summer of the dance". On the program for 10 days, from July 10 to 20, seven shows that show the vitality of choreographic creation. This morning, discover the pinching humor of Christian Ubi and Kylie Walters.
Let's say the entrance, initially this show scares us. She enters in little shorts and headband and begins to ape animals: everything goes: hyenas, lionesses, kangaroos …. But quickly, his twisting humor operates. She begins a sentence, in VO, and continues in step. The technique works, it quickly becomes funny.
Why "Au"? And above all for Austria and Australasia, which are the two countries of the two dancers. Because yes, the Australian will be joined by Christian Ubi, who initially fades, overwhelmed by exuberance of the dancer to the precise technique. Her dance is very athletic, he at that time serves as a support.
Live, Seb Martel composes and sample, accoutré in Indiana Jones, on a funny xylophone. Gradually, the show becomes a relevant satire of the stereotypes that everyone has on the country of the other. From the aborigines to the Viennese waltz, there is only one pas de deux, well explained in a crazy dance lesson.
With humor, the duo of dancers comes to question us, with lightness, on the abolition of the cultural differences. So what, should we dance the same? Where do we come from? The three enjoy these archaic postures, dance, song, and words, and this is a perfect awakening for a day at the Festival d'Avignon.