[vc_row][vc_column width="5/6″][vc_column_text css=".vc_custom_1572714670250{padding-right: 42px !important;}"]
GLOBAL UND LOKAL
The weekend opened the festival TANZ Bremen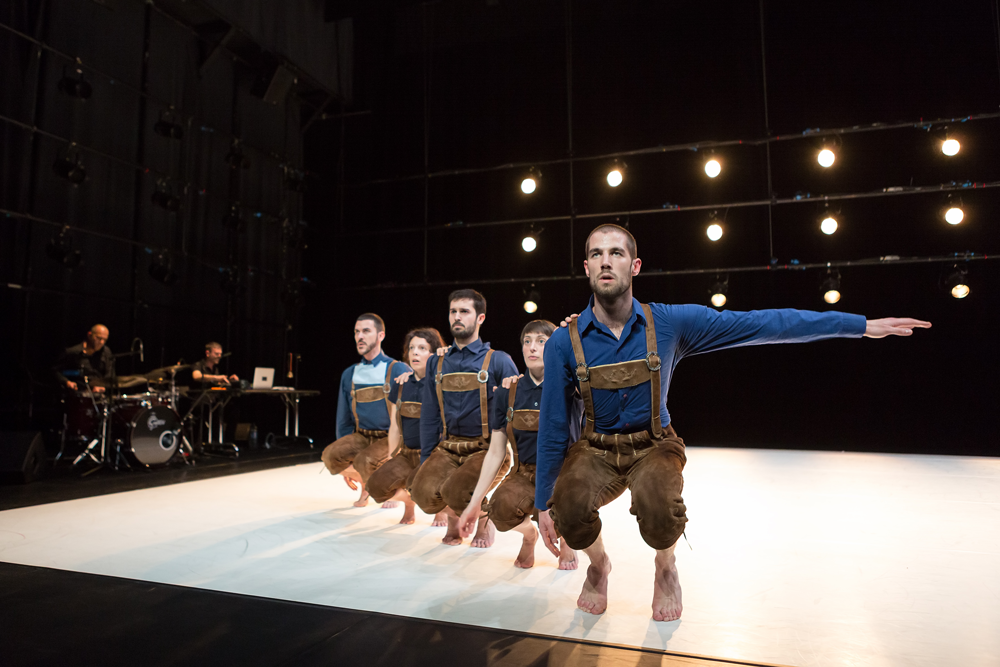 [/vc_column_text][vc_column_text css=".vc_custom_1545467712517{margin-right: 32px !important;}"]
© Didier Philispart
[/vc_column_text][vc_empty_space height="12px"][vc_column_text css=".vc_custom_1572714857402{padding-right: 42px !important;}"]
The festival for international contemporary dance, curated by Sabine Gehm, already offers a varied program for participation and participation on the first two days – this year's motto.
On Friday afternoon, the first visitors meet at the Goetheplatz in front of the Bremen Theater and wait for the opening of the festival TANZ Bremen, which can take place again after a one-year shift and with reduced financial resources. Despite the biting cold and fog, the audience is getting bigger and bigger. Random passing passers-by who are traveling between Bremen's city center and the Bremen cultural mile (the "Viertel") also stop. Because all too often you do not see outdoor performances in the Wesermetropole. And with "Infaltable Costumes with Video Projection 1", the stilt formations Oakleaf Creativity (Hamburg) and Stelzen-Art (Bremen) have created a real eye-catcher. Like beings from another world, the four artists come with their oversized white air-cushion costumes. Illuminated by colorful video projections by the Bremen artists' collective LichtZeitRaumKlang, dream structures are created that are in constant motion. From time to time a tram passes in the background. Mystically unrealistic and at the same time in the middle of everyday street life, the colorful figures prance and thus not only present a visually beautiful, but also a programmatically suitable festival opening. Not only internationally renowned choreographers such as Marcos Morau and Israel Galván will be on display next week, The Bremen dance scene will also be presented with Alexandra Morales, tanz_bar and DE LooPERS. And last but not least, all of Bremen should participate in this festival 'Participate / Participate'.
"Edvard" is Marcos Morau's choreography about Edvard Munch and dance theater at the highest level. Surrounded by a sheer white chiffon curtain that looks like an impenetrable membrane, Morau reveals insights into the psychic life of Munch. Somewhere between spacey laboratory and sterile clinic moves the stage (Enric Planas) in the bluish-dull light design by Albert Faura. And yet this choreography contains so much human. But already the sound (Louis Miguel Cobo) is dominated by the rhythm of the human heartbeat. From time to time the noisy dull soundscape is broken up by the bright and clear tones of a late romantic piano piece. The torn between emotional coldness and the need for expression is a clear reference to Munch's work as a forerunner of Expressionism and his biography of illness, death and loss. Robotic movements of the extremities, are transferred into always surprising softness of the torso. Most movements arise causally, from touches between the dancers. Although a flow of motion comes up, but hardly a sequence is completed. Morau demands from his dancers a very high technical precision. This challenge is mastered by the dancers of the Norwegian company Carte Blanche. A dance evening that sets the expectations for the next days high.
With CUBe / Christian Ubl's "Shake it out" as the second German premiere, however, the festival concept skillfully undermines the potential comparison. Because so completely different works this piece. There is nothing to see in the Kleines Haus des Bremer Theaters except a white dance carpet, black walls, drums (Stéphane Dunan Battandier) and an inconspicuous mixing desk (music: Fabrice Cattalano). The program shows dancers in lederhosen and European flags. The text speaks of folk dance elements. And that's all it takes to give a one-hour lesson in European history. What at first sounds like boring history lessons, however, turns out to be an entertaining journey into the European dance scene of the last 50 years. Folk dances of different regions, ballroom dances and disco formations tell of the emergence of Europe, its potential, but also of identity conflicts and violence. Strict dance formations are being replaced by increasingly freer movements, culminating in a shared bath in the flag pool. The dancers of the company CUBe dance wonderfully naturally, uncomplicatedly and technically highly versed. They meet again and again, forming sculptural formations. Cristian Ubl creates a series of consecutive scenes that work with clear images. He does not evaluate, he does not question, he shows. The result is moods that can serve as triggers of memories and emotions and leave every viewer a bit of his own (European) history. Even though there are noticeable lengths in the meantime, the audience is enthusiastic in the end and follows Ubl to the stage without much hesitation at the following "Folksbal", in order to become active in the style of a dance school lesson. Under a big disco ball, to Latin American hits find Japanese folk dance, Chachacha and disco to each other. The motto Participate is taken literally and spreads a lot of fun.
On the other hand, the podium discussion "On the value of dance" in the Schwankhalle was not that enjoyable. In a one-day workshop, numerous dance-makers from Bremen met the invitation of the umbrella organization Tanz in Germany to deal with the situation of dance in their city, pointed out problems and sought solutions. The work of the day will now be publicly presented and a podium, made up of representatives of the Bremen cultural policy for discussion. As topics dominate missing visibility and coordination as well as insufficient subsidies. A dance office, round tables and bundled websites are just some of the many suggestions for improving the situation. Unfortunately, a discussion does not come up. While the politics are wrapped in general phrases and the free scene calls to articulate better and above all louder, the dance is almost completely silent. On the topic that should not be and probably not due to lack of interest. Rather, communication does not seem to work here, politics and dance seem to be too far apart. What it probably needs is not a wider variety of topics, greater social relevance or more creativity and dedication on the part of those involved, but perhaps simply a lobby. A lobby that mediates between dance makers and politics, that speaks, translates and negotiates both languages.[/vc_column_text][/vc_column][vc_column width="1/6″ css=".vc_custom_1429788088859{padding: 12px !important;background-color: #f2f2f2 !important;}"][vc_text_separator title="PRESSE" color="black"][vc_basic_grid post_type="post" max_items="30″ element_width="12″ item="2912″ grid_id="vc_gid:1572714623609-3497c003-8abf-8″ taxonomies="46″][/vc_column][/vc_row]