The ball of the powerful
"The Fifth Season" by Christian Ubl
APRIL 05, 2021 | Photos and comments Jean Barak
Between the second and the third confinement where, among other futile things, our good masters kill the culture to save it, there were some gaps through which the lights flew on, as at the Théâtre de l'Olivier. This March 25, 2021 Christian Ubl presented its "Fifth Season" to professionals. One day undoubtedly, the public will again be authorized to receive communion in the imposed course of their secular rite, the "true lie".
Clearly, culture is dying, but it is a phoenix that is always reborn from its ashes, the century of fireflies that we took for the light enlightens us forever.
"There is a crack in everything, that's how the light gets in"
Leonard cohen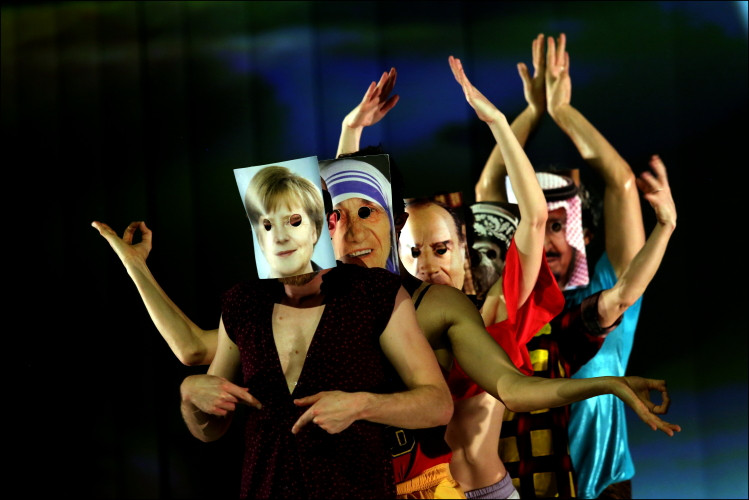 Christian Ubl is a transversal artist, a jack-of-all-trades who broke into the seraglio.
Dancer, we saw him in particular at Kelemenis, Abbou Lagraa or Thomas Lebrun.
His pieces are never trivial or anecdotal, he questions the flaws that cross him, backlit those that cross us: "LDF in 2019," tongue of fire and groundswell ", from hope to chaos, the fire and water of the Arab springs. "Still" in 2017, what is the place of art in Austria today between Gustav Klimt and Egon Schiele? That of identity in its relationship to difference:
"A U" in 2015. "Shake It Out" in 2014, the relationship between folklore and culture: is there a European identity? Etc.
The public is called upon to mask themselves to be filmed, their image will be projected as a live wallpaper. A Nice Organizer invites him to stand up, to reproduce his gestures in a sort of "flash mob", that is done a lot, it is as if we were removing the fourth wall, that of the public. It gives the impression of participating, people are happy. But we quickly see the limits, it is an effective trick to jostle the spectator and grab him by the shirt, but very quickly he will have to return to his wise seat of "viewer".
Then the gestures that we imitated become a disco choreography as teenage girls adore it wherever the television has reached them. And then it becomes a rave party under acid, but without the molecule. It's frantic, but it lasts. When you start to sink into your seat because you haven't done it, it goes crazy and you find yourself the fierce, sarcastic Christian Ubl you used to know. Or desperate.
Inspired by Bruegel the Elder, Carnival takes you far from the tacky first degree of the beginning. Who was perhaps already self-deprecating.
The masks dance, it's the ball of the greats of this world, we recognize them all there, it's strange, dancers without faces. Without theirs anyway.
When the masks fall, there is another one underneath, a clown mask. You will recognize Islamic veils, Roman emperors, femens with the juvenile breasts of dancers, when the scandal of the beauty of a bare breast is a weapon of mass destruction against the bullshit, the very ones who set on fire at Notre Dame de Paris in 2014, and many other things that will arise from some withdrawal of your sleepy preconscious.
More than ever Christian Ubl annoys, confuses, upsets. It is not unnecessary. In the end, he is equal to himself, only worse. You will have to go see this room with or without a mask, you know very well, those which are useless when there are no more, we have thrown them away, and essential when we have bought millions of them to replace them. As we know, an "expired" mask protects less well than no mask at all.
Soon, no doubt, in a few months, after the vaccine – preferably not the one that will definitively cure you of life – and before the next pandemic.
When I hear about culture, I go out of my health protocol.