The Brigittines | 2015
… In conclusion of the festival, a clear political note: the 28 and 29 Christian Ubl ,, an Austrian living in France proposes Shake it out where 5 dancers offer us a joyous "outrage", gymnastic and choreographic to any feeling of belonging … national . A jubilant nose to all propaganda, "an ode to joy that would also be a critical song".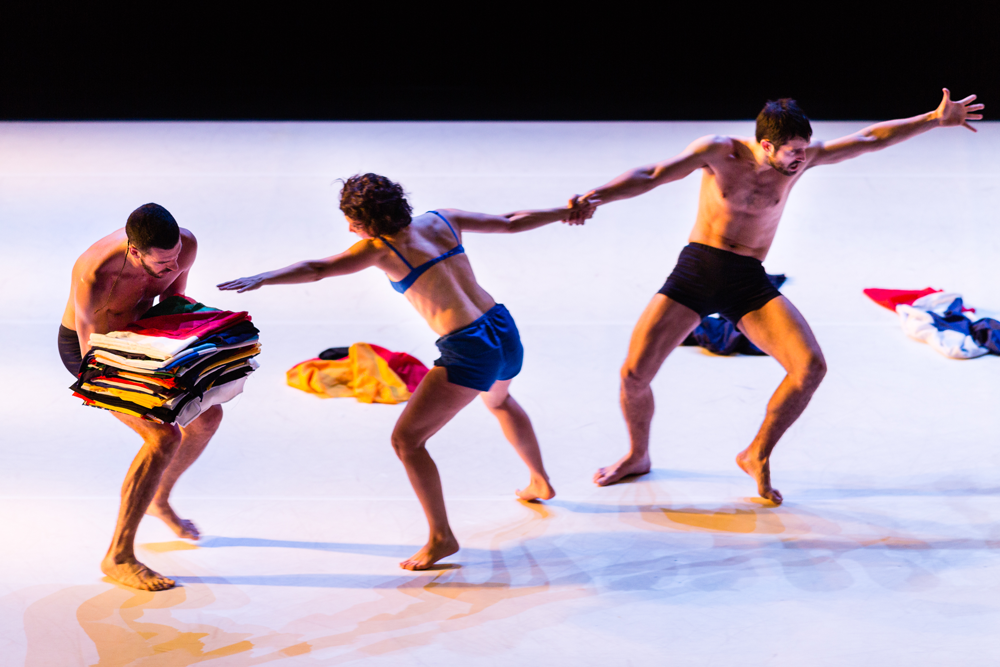 … In counterpoint, Christian Ubl offers a group play. With Shake It Out, he turns aside the autobiographical approach by convening Europe around his questioning identity. Seven performers dancers and musicians dissect the symbols of the Union, the figures of power and the community utopias together. In silence, the piece opens with a face to face encounter between an interpreter and the audience. From then on, the tone is announced when he eats one by one European flags – starting with that of Greece – with delight first, then up to nausea. He is joined by other performers who wear like him traditional Tyrolean overalls. The individual blends into the group, the community is built in a choreography that refers to the military marches. Like an elaborate mechanics, the whole thing works perfectly. The construction is millimeter in both space and rhythm. But is not this machine doomed to failure? Can standardization continue?
The chaos of the second part of the show, evoking the grotesque and hypocritical politicians' round tables, undermines the notions of understanding and unity. When the uniform falls, the masks also. Returning to the human being, grimacing individualities emerge. Finally, the group tries to structure itself again around a figure half-man half-totem, symbol of a central power to which all can finally refer. From politics to festive, even tribal, the ritual is metamorphosed. Folklore, here hybrid, is inspired by traditional dances of several countries. He brings people together. As constructed as the unison that preceded the military, the choreography borders with a trance that rejoices as much as it creates discomfort as individuals seem to struggle with their limits to achieve to remain in the group. If Christian Ubl denies having made a political play, this dimension is nevertheless omnipresent. The choreography questions this sometimes abstract entity to which European citizens are supposed to belong …