WAOUHHHHH! | An Artistic Ramble
This project first took place on 3rd and 4th October 2015 at the Col du Coq in the heart of the Chartreuse Massif Regional Nature Park, as part of the Arts Sciences Biennial run by Meylan's Hexagone theatre, which has Ministry of Culture "scène nationale" status.
Christian Ubl invites participating artists to stage an eco-artistic act in a sensitive natural space such as the Col du Coq area or other natural sites, in order to drastically alter our perceptions and sensations outdoors.  An artistic ramble where tools to touch the invisible among the visible are created collectively, in a landscape that hosts a wealth of species and exchanges between plants and animals… an artistic ramble to invent an "artistic mingling" in the heart of a natural ecosystem.
Planetary mingling is a key element of living together with respect, outside of definable time.  At the chosen place, are we in a living museum? How should
we act? How should we look? How should we walk? How should we talk? How should we dream? What dance, posture, or bodily path belongs in a protected landscape? What is the value of dance or artistic movement performed outside? Do the conscious walking bodies take on new or unexpected value in the heart of nature?
Man becomes witness, guardian, and initiator.
With WAOUHHHHH!, artists and visitors act and observe, working together to conjure a simple bodily dialogue that accentuates the relationship between man and nature. In doing so, they also investigate the values of our lost rituals and traditions. WAOUHHHHHH! invites us to share a moment of art in the heart of a natural reserve or site, as we come together to reflect on our values and experience the friction between man's position and his perception of the landscape. WAOUHHHHH! is a unique Zone of comfort, a Zone of activity, and a Zone of discovery – a symbol of well-being and freedom of expression. WAOUHHHHH! is a "scenic natural reserve" that has lost its traditions. Now it calls us to invite in new rites and contemporary behaviours.
The project places the audience, passers-by, visitors, and artists in a tangible physical context, exposing each in turn as actors of the living body and the living landscape, twisted between the modernity of their presence and the history of the site.
A few technical details, explanations of the tools used, and an example of the journey in a selected natural site:
Duration of the day: a maximum of three two-hour trips per daytaking place three times per day, with up to three groups departing on each trip.
The Col du Coq example:
Morning departure at 6.30 AM / sunrise: 2 groups of 15
Afternoon departure at 2 PM: 3 groups of 15
Evening departure at 5 PM / sunset: 3 groups of 15
Participants will be divided into groups prior to departure. They will be told their group in advance to save time when splitting the overall group.
After an introduction to provide context on the issues of evolving landscapes and the geological and geographic characteristics of the site, participants will split into their groups. Walkers of all ages and backgrounds will come together to follow the artists in an experience that is at once individual and collective.
Audio-guide headphones: All participants will be given headphones
(similar to museum audio-guide headphones), so that they can hear the artist's live instructions.These specially adapted audio-guides will be hired out for the event.
Objectives of these headphones:
To allow each participant to focus on their body and their individual perceptions. To help participants be sensitive and receptive, to allow them to be guided by the artist's voice, to hear the poetry of sound, and listen to a text; to offer a concrete way of observing the self and one's individual internal rhythm in a natural setting, to leave urban behaviours behind, to avoid the effectiveness-driven reflex of walking directly from point A to point B, to walk in silence whilst observing the invisible spectacle of nature.
The routes: to be defined according to the site chosen.
Getting to the site: if necessary, by bus or individual transport – to be arranged with the organiser.
The Col du Coq example: On the bus, a designated person from the site or organisation will present the site or park characteristics, the relationship between human activities and the environment, and the present but invisible wildlife (at the Col du Coq, this includes lynx, black grouse and black woodpeckers).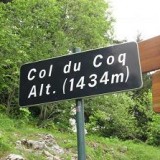 3 & 4 october 2015
 LA BIENNALE ARTS SCIENCES 2015
---
START AT L'HEXAGONE
Length: 2H + BUS
6h30 RAMBEL MORNING
12h30 RAMBEL AFTERNOON
17h00 RAMBEL SUNSET
Conception & Choreography 
Christian Ubl in collaboration with Ingrid Florin and Severine Bauvais
Music
Seb Martel
Production 
CUBe assossiation
support
Département de l'Isère, Hexagone Scène Nationale Arts Sciences – Meylan

Coordination & organisation
CUBe association in collaboration with the Département de l'Isère and the CAUE Isère.
Waohhhhh ! is an experience for the senses punctuated by unexpected encounters with natural elements, materials, the atmosphere, echoes, self-awareness, and sensory awakening while listening to texts that sing the praises of walking. All of these elements will come together to create a collective experience.