WAOUHHHHHLK !
AN ARTISTIC HIKING
WOWHHHHHLK! Is a "natural scenic reserve" which invites us to invent new rites and behaviors. The project places walkers and artists in a concrete context that exhibits them in turn as actors of the body, living landscape or spectator, between the modernity of their presence and the history of the place. WOWHHHHHLK! invites us to share an artistic time in the heart of a landscape, a territory, a city, to ask ourselves together the question of our values, to put in friction the posture of the man and the posture of the landscape.
choreography Christian UBL in close collaboration with Sandrine Maisonneuve
Music Seb Martel
Photo Hélène Bossy – August Photographs
CUBe association production
Support
DRAC Provence-Alpes-Côte-d'Azur,
the Olivier Theater
Scènes et Cinés
WAOUHHHHHLK !
Artistic and performative journey
History and starting point of the project:
A first experimental form of the WAOUH! project, in the form of an artistic hike, took place at
Col du Coq – natural and sensitive reserve – as part of the i-meetings of the Biennale Arts Sciences, piloted
by the national scene in France in Meylan on October 4, 2015.
Following this very promising first experience, Christian is looking for spaces / residences for
develop this participatory project in order to add a performative component. Nested in the ambulatory space,
a poetic performative space, taken over by guide artists and the public, seems to be a protocol and
relevant motive for prolonging listening in observation towards a sensitive walk. Reading and reception
performances during the course, will be received and welcomed by the spectators /
actors / walkers differently than in a usual performance setting.
At the starting point of the WAOUH! project: The invitation of the Department of Isère to develop an ecoloartistic act
in the sensitive natural space of the rooster neck area, in order to "reverse" our gaze and
"Shake up" our sensations in the open air. An artistic hike where we made several
tools to touch the invisible among the visible in the middle of a rich landscape. A scenario
where man becomes witness, guardian and initiator.
Production: CUBe association
2015 co-production support: CG and CAUE Isère, L'Hexagone, national stage Arts Sciences de Meylan,
Coordination & amp; organization of October 4, 2015: in collaboration with the CG Isère, L'Hexagone, national scene
Arts Sciences of Meylan
Sketch for a typical route:
For the WAOUHHHHHLK courses! we put in place and in action a whole panoply of values
educational in the form of auditory indications and playful body exercises – instructions at the same time
technical and physical – in relation to nature, the group and oneself:
– & gt; walking as a vector and access to concentration
– & gt; walking as a meditation or personal introspection
– & gt; walking as the mobility of the body
– & gt; walking like smart and confident feet
-> walking to build energy and create a bond with others
– & gt; walking as a common and / or personal rhythm
– & gt; walking as mobile thought, evolutionary, without borders and limits
– & gt; walking like deep breathing
– & gt; walking as an experience and surpassing oneself
– & gt; walking to get closer to nature
– & gt; walking to blend in with nature
– & gt; walking to rediscover nature
– & gt; walking to become movement
– & gt; walking like a dance
– & gt; walking as a trivial and universal act.
Note of intent of the WAOUHHHHHLK project!
WAOUHHHHHLK! The artists and the public, in action and listening, together seek a bodily dialogue
simple which places Man at the heart of nature and his environment, thereby questioning the
values ​​of our traditions or lost rituals. Dance or body art is an art that adapts to many
circumstances, capable of eliciting a thought or emotions.
WAOUHHHHHLK! invites us to share an artistic time in the heart of a cultural place or reserve – site
specific to ask us together the question of our values, to put in friction the posture of the man
and the posture of the landscape. The artistic act thus becomes more of a symbol, an ephemeral moment, a moment
of sharing, a need to exist and live together. Unite around an artistic journey in
a natural environment to enhance the landscape, walking, and sharing a dance performance seems to me
give strength to the sensitivity
WAOUHHHHHLK! is an ephemeral utopia in motion, a parenthesis offered to the sensitive, a moment
where movement and walking become dance and where our mobility is at the heart of our daily lives
becomes a political and civic act in harmony with our environment.
It is a universal experience, accessible and to all. This place, this moment spent together becomes a place and
a time of emancipation, of freedom, open to difference. This is how we will form society. Flooding
our planet with the heat of walking bodies and beating hearts: bodily, whole, carnal, determined,
listening to our environment. Today, the state of emergency makes us tremble. We must
remain beings who sing, who dance, who cry, who love, who walk, who listen, who remain
sensitive.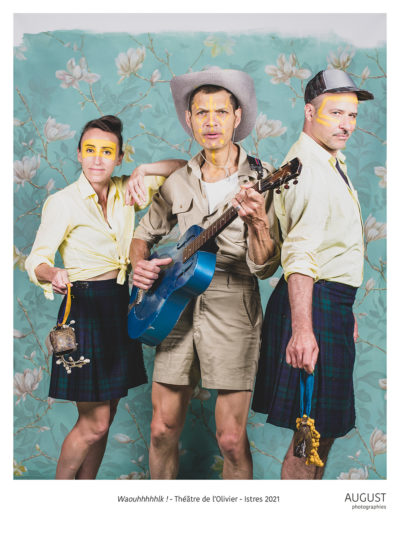 Some technical indications, explanations of the tools used and example of the
setting up of elaborate courses:
Duration of the final restitution day (s):
Two routes maximum of 2 hours per day to be adjusted according to the public and the environment.
Example:
Morning route at 9 a.m. – 11 a.m.:
1 group of 20 to 25 people
Afternoon course at 5 pm-7pm:
1 group of 20 to 25 people
Second day, schedule change possible with more early morning trips or longer in the evening.
The routes and times are to be decided together, with the partner location during a planned scouting time
upstream.
Headphones audio guide:
All participants are equipped with a helmet. (audio-guide type in museums) to hear instructions
live data by the artist. Adapted audio guides will be hired for the event.
Objectives of these helmets:
Allow each participant to be centered on their body and their individual perceptions. Awaken sensitivity,
the concentration and receptivity of the participant. The headset will prevent one from communicating
with the others. Allow access to sensitivity and listening, let yourself be guided by the voice of the artist, hear
a sound poetry, listen to a text. Make the observation of oneself and one's inner rhythm concrete
in a natural setting. Get out of your urban behavior, do not meet by voice, isolate yourself
become aware of where I am, when I am. Not being efficient in going from point to point
another in reflex mode, slow down on purpose. Walk in silence to be able to observe the
invisible spectacle of nature.
Photo Studio – August Photographs:
The re-creation of Waouhhhhhlk! in Istres in the summer of 2021 allowed the integration of a new dimension to the
artistic stroll. Hélène Bossy from August Photographs was thus involved in the 2021 hikes in
proposing the setting up of a photo studio allowing participants to immortalize their moment of
choreographic walk. This proposal is a proposed option, thus giving a color as much
warmer to this intimate gathering surrounded by nature. This time of portrait photos can be
set up in-situ, at the heart of the hike, in the natural space.
The advantage of this photographic accompaniment is that the participants subsequently recover at the theater
and their portrait photos in their mailboxes.
CUBe est un projet chorégraphique subventionné par le Ministère de la Culture et de la Communication / DRAC DRAC Provence-Alpes-Côte d'Azur , le Conseil Régional PACA,le Conseil Général des Bouches-du-Rhône, la Ville de Marseille, la Ville d'Istres. CUBe – Christian UBL est soutenu par le Forum Culturel Autrichien à Paris.