weser kurier
Choreographer Christian Ubl and his company CUBe bring the political chaos on the Bremen stage
Europe as it dances and staggers
At the Festival Tanz Bremen, choreographer Christian Ubl sets a fast-paced highlight with »Shake it Out!«: His company CUBe presents Europe as a grotesque scenario in which only one thing is certain: dynamic chaos.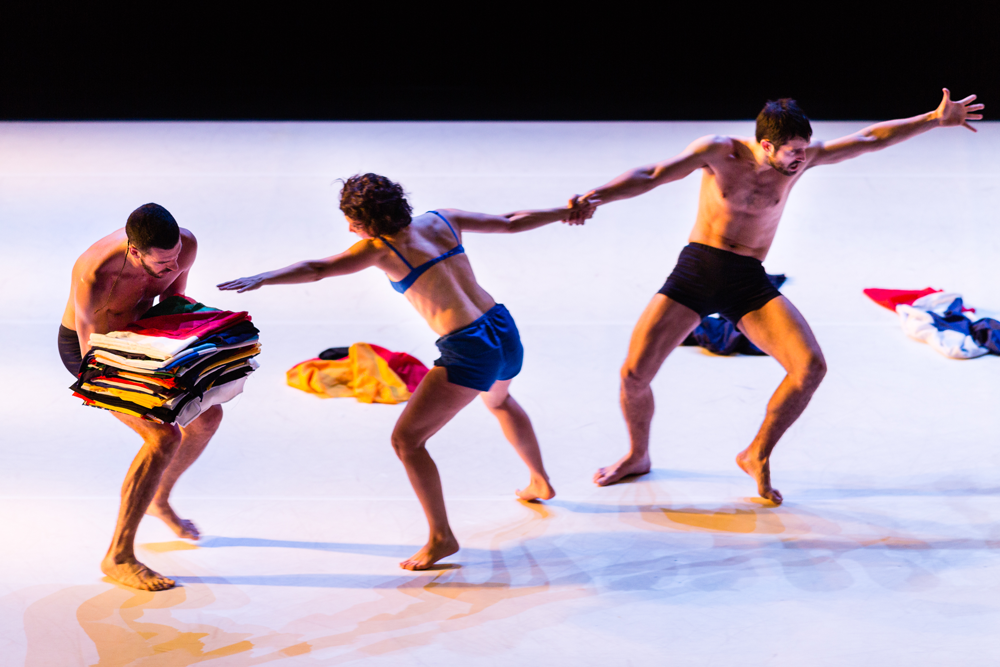 Christian Ubl and his ensemble CUBe presented their piece "Shake it out" at Tanz Bremen. (Photographer:Jorge PEREZ)
When it comes to the idea of a united Europe, there is a lot of debate going on financially and politically. The Austrian, Christian Ubl and his company CUBe, who live in France, now succeed in creating a small masterpiece that transforms the perceived confusion into dance-like images. In the Small House of the Bremen Theater on Saturday his company showed as a German premiere the piece "Shake it Out!" There are folk dances from many regions in a picture-rich vortex brought.
And this begins rustic, quietschledern: In Lederhosen fly the two dancers and three dancers across the stage, driven by the driving beat of a drum kit, which always starts from small variations to larger rhythmic excursions. Very skillfully, the alpine Schuhplattler gets into a kind of marching music, and everyone has to yield to the new rhythmic seductions.
Sometimes they react with grimaces or, as with a car scooter, the (dancing) journey suddenly reverses. A wonderful mess arises; sometimes fighting, then silly and witty – so the choreography offers almost every second new interpretive possibilities: Sometimes rehearsing the dancers shoulder to shoulder, while the eyes are directed high up – to higher goals and better visions?
Although the performance looks so wild and entertaining on the outside, it seems to be shaped by a well-thought-out content structure. Roots, folklore, dialogue and war, the choreographer calls the key points of this work, which are finally bundled into a peppered spectacle. Much of what can be associated with the foundations of European culture sounds here: Schiller's "Ode to Joy", for example – but German idealism, this "united people of brothers," remains just a note in one of wrestling and stumbling embossed pictures. Dances from all directions alternate fluently, from the eastern kasachok to Irish céilí dances. Europe, as it dances and staggers, could be the subtitle of this sweaty mess.
Also, the staging skillfully plays with images from the Greco-Roman antiquity: The dancers then take poses from corresponding statues, which always leads to amusing effects. In addition, the anthropological view across borders succeeds by incorporating African dances in some places. Sometimes the mixture seems to be running hot again; The dancers are now completely bared and seem to get ready for bathing. They seem literally drained of the manifold obligations to all sorts of movement quotes. Lightning like New Year's missiles plunge the stage into an apocalyptic flickering – and suddenly the big sea of ​​flags lying in the middle (and sometimes heavily gnawed on and even swallowed) looks like a shambles.
You want to see the staging several times in order to capture the layers of this melange. Ubl, who himself was a successful standard dancer, shows as a choreographer a work that relies less on individual dance performances, but is supported by a joy in collective movements. The fun of anarchy, speed and Grenzverwirbelungen gives the evening a great momentum.