Nassim al-Raqs: Contemporary dance and the everyday street
A festival for contemporary dance in public spaces — this is how one describes Nassim al-Raqs (A Breeze of Dance), which just took place in Alexandria between April 16 and May 3 for the fifth consecutive year. Born after the 2011 revolution, but planned before that transformative point — which is considered as the most important transition in Egypt's contemporary history and this century's most significant collective visual action in the Middle East — it engages citizens on Alexandria's streets with an art form Egyptian society is unaccustomed to. Yet European cities more open to art in public spaces would still have found it unusual.
How Much?
…The second performance took place in a previously unexplored public space, in the Hano shops in Alexandria's central, smaller Mansheya district, which leads to the older residential districts. We walked from Raml Station to Mansheya, a commercial area of interaction between social classes and a transport hub for the yellow tram and microbuses.
The Hano shops are located in an old European-style stone building, one of the remnants Alexandria's early-twentieth-century architectural heritage. The three-story building was nationalized in the 1960s and is now owned by a public company.
We gathered in front of a shop window in which male and female dancers stood like mannequins. We gathered as a theater audience, not as shoppers eager to grab one item or another. After 10 minutes in which we stared at the silent opening scene, a smiling flautist appeared. It seemed as if he was bringing the mannequins to life with his magical tunes. An old and repetitive image, but not crude in its conventionality: The flute's beauty and the dancers' simple movements provided an exit from the conventional, stereotypical image.
We then moved inside the huge building. The dancers settled in a square area where carpets were laid out for them to sit. We didn't know if we were going to stare once again at the silent dancers, this time as they were seated. Soon enough an English voice declared into a loudspeaker, such as those used lately in markets, protests and gatherings, that you could touch a dancer, prompting him or her to perform. This was a good entry point for a dance performance, after which the dancers began moving from place to place in a previously choreographed plan.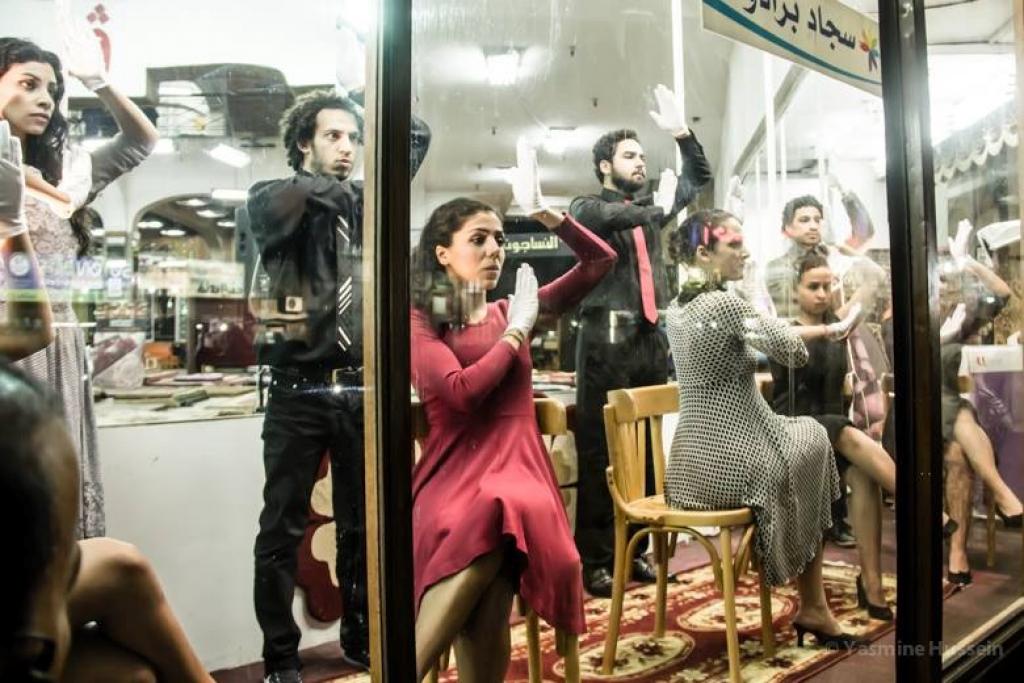 بكام؟ (Courtesy ياسمين حسين)
They ascended and descended the stairs followed by the audience and by contemporary music of which the guitar and the flute were the only distinct sounds — the flautist was always part of the scene. If it hadn't been for this strong, well-employed music, the audience could have easily lost interest in the dancing and continued shopping. The dancers' performance was great, but exhausting and out of context, for in a place full of electronic devices, clothes, desks and linen, it was restricted to a limited dance floor.
This was the work of Austrian choreographer and director Christian Ubl, apparently fascinated in a superficial way with the place and thus presented his idea with poor artistic means and the most direct of methods. Probably the most significant element was how the Hano employees gave way to the dancers as they moved up and down the stairs, for they had witnessed the final rehearsals. I don't know whether these were assigned roles or if they had volunteered to do this, like how those performing Eid prayers or nightly Ramadan prayers volunteer their roles, performing their actions mechanically, unaware.
Did they grasp the message behind the performance? That contemporary dancers suffer because no one else understands the importance of dance? This is what Ubl said about the performance in a TV interview for Art is an Address, Egypt's only non-state TV program about the contemporary culture scene. He said that when he came to Egypt he found the contemporary dance scene very limited, so directed a performance asking how much you'd pay for dance, and what the value of dancing is…